From the desk of lesbian romance author Lee Winter
Right now, I'm working on a novella from The Brutal Truth  universe, starring the highly strung Felicity Simmons, Elena's former chief-of-staff who has been recently promoted. But before Elena will hand over the keys to the kingdom in her absence, she has one little off-site assignment to test Felicity with, to see how adaptable she is, and whether she can manage being subtle and nuanced. And that's how Felicity finds herself in the South Bronx for a few weeks, coming ever so slightly undone!
Meanwhile, Hotel Queens, my latest book, is out at Amazon and also at Ylva. It's also now available as an audiobook narrated by the legendary Angela Dawe. Aussie readers note, there's a HUGE SPECIAL on it for the month of March, 2021, at Amazon.com.au, where it's only $1.49, so get your skates on.
Here's what it's about: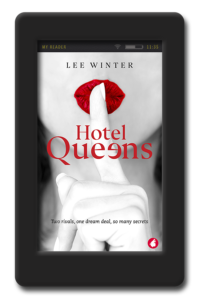 Ice meets fire in this opposites-attract lesbian romance, as layered, sassy, and smart as its characters. Over one long night at a bar in Las Vegas, two powerful hotel executives meet, flirt, and challenge each other—having no clue they're rivals after the same dream deal.
Brilliant ice queen Amelia Duxton is a hotel vice president who thrives on control, truth, and efficiency. She's in no mood for love or the mess it brings. All she wants is to buy the coveted Mayfair Palace—a massive deal that could finally help her land the CEO job in her family's hotel empire.
Fiery Kai Fisher is charming and chaotic and renowned for closing ambitious deals. Her sights are set on snatching the Mayfair Palace out from under the nose of her hated arch rivals, the Duxton family.
But when secrets emerge and everything starts to fall apart, how can either of the warring women win—especially when they've just met their match?
---
Hanging out with lesfic author EJ Noyes…
Probably the most fun I've had this week has been hanging out in virtual space with my good mate and fellow Aussie author, EJ Noyes, while we chatted about  life, our writing, things that drive our other halves crazy, and our must-grab-in-the-event-of-an-apocalypse items. I've learned some valuable things, such as that I'm definitely going to die in end times, probably first, and that EJ is going to leave me behind. And I don't blame her one bit!
Check out the Lee Winter and EJ Noyes interview here.
---
Check out 'The Brutal Lie' short story
If you enjoyed Elena Bartell's adventures with the Aussie reporter Maddie Grey in The Brutal Truth, then you'll want to check out my short story sequel, The Brutal Lie. It's in an anthology featuring all sorts of awesome short stories from Ylva authors, called After Happily Ever After. It's a bargain price and out now.
My story answers the burning questions of who proposed and how. And how did Elena and Maddie's relationship become public.
Plus, there's a little bit of empire building going on, too, because, come on, it's Elena Bartell, media mogul and all-round legend.
Also included in the anthology is a copy of Love is Not Nothing, the short story sequel to my lesbian assassin crime noir tale, Requiem for Immortals.
---

Discover Lee Winter's inspirations
Want to know where my characters live, work, how I saw them, and all the other trivia that filled my brain when writing my books? Readers can now check out the inspirational and/or research pictures I've posted on my new Pinterest page. So far Changing the Script, Breaking Character, The Brutal Truth, Shattered, and The Red Files are up. I'll be putting up Hotel Queens in December, although newsletter subscribes will already know about some of my inspirations.
---
Sign up for Lee Winter loot and insider info!
You can subscribe to my newsletter on the Home page or Contact Me page.
Every month or two I'll share any new-release info or other writing stuff I have on the boil. No spamming ever, Scout's honor. I occasionally also drop free short stories for my subscribers. Each newsletter includes links to previous subscriber freebies, which currently include:
An exclusive Angela Dawes-narrated short scene The Ice Queens Meet. It's between two of my ice queens, Elena (The Brutal Truth) and Elizabeth (Breaking Character)
Skye Storm's Invite Absolutely Everyone Ultimate Pool Party (Breaking Character universe).
Aliens of New York  (The Brutal Truth universe).
Five Times Felicity Met Elena (The Brutal Truth universe).
First-Class Villains (Requiem for Immortals universe – and a crossover with multiple other books' villains).
New subscribers will be emailed a free new short story set in the Red Files universe, When DC Met Iowa in the welcome letter. What's the story about? It's the day after Lauren and Catherine's wedding. Mega DC bitch Cynthia Redwell wakes to find she's maybe slept with Suze, the beer-pong-loving Iowan softballer. It's a funny old morning, that's for sure.