From the desk of lesbian romance author Lee Winter
There's a fun battle of the narrators going between Angela Dawe and Abby Craden and the narrating of mundane things. It's hilarious. Check it out here: http://www.leewinterauthor.com/gauntlet-accepted/
Hot off the presses: Hotel Queens is a Winner of Best Romantic Blend at the 2021 GCLS Awards.
These annual awards, dubbed The Goldies, are presented to recognize excellence in women-loving-women literature.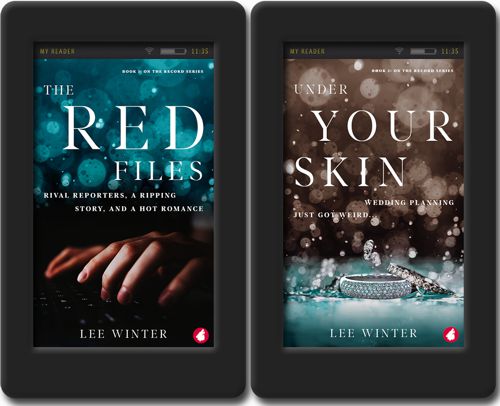 New-look covers

It's been a crazy year. Amazing we're already halfway through. I'm in complete denial about that. One of the highlights has been seeing the new covers that have landed for The Red Files and its sequel Under Your Skin. The idea is to get some traffic from the mainstream crowd as well as just the lesfic community. And we wanted something that says the two books are related to each other. The designer is Adam Lloyd.
---
Call that a novella?

So much for me just writing a novella! I'm almost finished writing a full-fledged 100,000-word long book from The Brutal Truth  universe, starring the highly strung Felicity Simmons, Elena's former chief-of-staff who has been recently promoted. It's called The Awkward Truth and has a cover, a release date (Nov 24, 2021), and everything!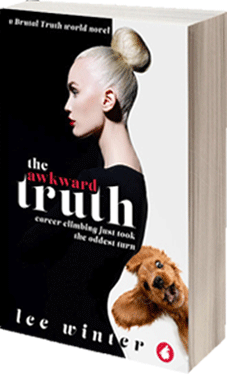 Here's the blurb:
This funny opposites-attract lesbian romance digs up the awkward truth about what really matters in life.
Ambitious ice queen and corporate lawyer Felicity Simmons has spent her life focused on one thing: scuttling up the career ladder. She's achingly close to taking charge of a media empire for her boss when she's sent to investigate a South Bronx charity that helps homeless people's pets.
Has the charity made off with her boss's generous donation? And who on earth is that gorgeous soft-butch veterinarian who looks as if she could toss a Shetland pony over one shoulder? Not that Felicity has any interest in some opinionated Amazon or her adorable fleabag of a dog.
Felicity is quite sure she will not be distracted, thank you very much. She has a minor mystery to solve, a mentor to impress, and her life's dream to fulfil. Even if a distraction might be exactly what she needs.
The Awkward Truth takes place during the last half of Lee Winter's The Brutal Truth but can easily be read as a standalone story.
---
Sliced Ice, the iciest Lee Winter anthology

I have so many short stories bouncing around across so many different books and platforms, and a few which were exclusive to newsletter subscribers. Then one day my publisher had the genius idea of corralling them all into one mighty tome, Sliced Ice – so named for all the ice queens within. It's exclusively in Amazon and Kindle Unlimited. It contains all my "what happened next" short stories, and in one case, "what happened first?".
Iconic characters revisited include Elena Bartell (The Brutal Truth), Elizabeth Thornton (Breaking Character), Monique Carson (Hotel Queens), Natalya Tsvetnenko (Requiem for Immortals), Catherine Ayers (The Red Files), and Cynthia Redwell (Under Your Skin). A full list of all the stories and what they're about can be found on my Short Stories and Anthologies page, or at its Ylva page.
The thing that makes me happiest is that all my beloved Brutal Truth stories are gathered together for the first time: So you can find the trio, in order: Five Times Felicity Met Elena, Aliens of New York, and The Brutal Lie.
---
Hanging out with author EJ Noyes…
Probably the most fun I've had lately has been hanging out in virtual space with my good mate and fellow Aussie author, EJ Noyes, while we chatted about  life, our writing, things that drive our other halves crazy, and our must-grab-in-the-event-of-an-apocalypse items. I've learned some valuable things, such as that I'm definitely going to die in end times, probably first, and that EJ is going to leave me behind. And I don't blame her one bit!
Check out the Lee Winter and EJ Noyes interview here.
---

Discover Lee Winter's inspirations
Want to know where my characters live, work, how I saw them, and all the other trivia that filled my brain when writing my books? Readers can now check out the inspirational and/or research pictures I've posted on my new Pinterest page. So far Hotel Queens, Changing the Script, Breaking Character, The Brutal Truth, Shattered, and The Red Files are up. I'll be putting up The Awkward Truth next, although newsletter subscribers will see them first.
---
Sign up for Lee Winter loot and insider info!
Subscribe to my newsletter here.
Every month or two I'll share any new-release info or other writing stuff I have on the boil. No spamming ever, Scout's honor. I occasionally also drop free short stories for my subscribers. Each newsletter includes links to previous subscriber freebies, which includes an exclusive Angela Dawes-narrated short scene The Ice Queens Meet. It's between two of my ice queens, Elena (The Brutal Truth) and Elizabeth (Breaking Character)
New subscribers will also be emailed a free short story set in the Red Files universe, When DC Met Iowa in the welcome letter. What's the story about? It's the day after Lauren and Catherine's wedding. Mega DC bitch Cynthia Redwell wakes to find she's maybe slept with Suze, the beer-pong-loving Iowan softballer. It's a funny old morning, that's for sure.