From the desk of lesbian romance author Lee Winter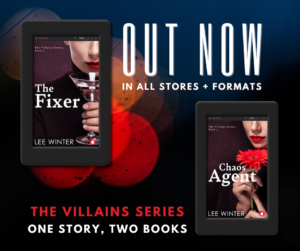 Both books of The Villains Series are out now everywhere, including Amazon.
For those interested in the audiobooks, unfortunately there will be delays due to some health issues of the wonderful narrator Angela Dawe. We'll update you when we have news.
The Villains Series are two books, one story about a naïve activist who accidentally finds herself employed by a corporate villain (as you do). Cue one awkward farce, a twisty puzzle, and the slowest of slow burns in this opposites-attract, ice queen romance.
You may recognize the ice queen protagonist's name: Michelle Hastings (aka Stephanie) was the villain in the On the Record series (The Red Files and Under Your Skin). Writing this book involved a lot of fun and angst trying to see if she could be redeemed after the hell she put Catherine Ayers through.
So far these books have had some amazing reviews at Goodreads along with this wonderful deep-dive critique by Autostraddle.
---
Recently released
Just out at the end of last year was The Ultimate Boss Set, which includes The Brutal Truth and The Awkward Truth novels.
Here's the blurb: Two hot bosses, one company, all the stories in one place…
Formidable boss Elena Bartell (The Brutal Truth) and her ambitious deputy Felicity Simmons (The Awkward Truth) rule Bartell Corp with dedication and brilliance. Now the best-selling ice queen lesbian romances are available in one e-book for the first time. Included are three bonus short stories: Five Times Felicity Met Elena, Aliens of New York, and The Brutal Lie.
In The Brutal Truth, take one media mogul, throw in a truth bet with her assistant, and as their secrets pour out, neither woman will be the same. A beautiful story about the lies we tell ourselves.
The Awkward Truth sees Felicity hunting a missing donation to an animal charity. She tries hard not to notice a soft-butch vet or her adorable dog. This funny opposites-attract tale digs up the truth about what really matters in life.
---
Found in translation
For those who like non-English books, there's exciting news.
---
A scene from The Fixer
A huge shout-out goes to the dynamic duo behind Scenes with the Author, Kim Pritekel and Kelly Neal, who volunteered to produce an mp4 promo video for my upcoming book.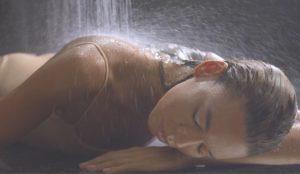 Hear a small, eighty-second scene from The Fixer read by yours truly. Apologies in advance for my dubious narration skills and doubtlessly incomprehensible Aussie accent! What I learned from this, yet again, is just how much talent professional narrators have! If you can't understand a word of what I'm saying, here's the transcript.
And for those wondering, my visual inspiration for Michelle Hastings while writing The Fixer was actress  Jennifer Connelly in her Snowpiercer role.
---
Discover Lee Winter's inspirations
Want to know where my characters live, work, how I saw them, and all the other trivia that filled my brain when writing my books? Readers can now check out the inspirational and/or research pictures I've posted on my Pinterest page. The Fixer and Chaos Agent have just gone up and that page joins The Awkward Truth, Hotel Queens, Changing the Script, Breaking Character, The Brutal Truth, Shattered, and The Red Files.
As always, my newsletter readers were the first to see all my latest book's "Pinspirations", so subscribe for content like this and other goodies.
---
Sign up for Lee Winter loot and insider info!
Subscribe to my newsletter here.
Every month or two I'll share any new-release info or other writing stuff I have on the boil. No spamming ever, Scout's honor. I occasionally also drop free short stories for my subscribers. Each newsletter includes links to previous subscriber freebies, which includes an exclusive Angela Dawes-narrated short scene The Ice Queens Meet. It's between two of my ice queens, Elena (The Brutal Truth) and Elizabeth (Breaking Character)
New subscribers will also be emailed a free short story set in the Red Files universe, When DC Met Iowa in the welcome letter. What's the story about? It's the day after Lauren and Catherine's wedding. Mega DC bitch Cynthia Redwell wakes to find she's maybe slept with Suze, the beer-pong-loving Iowan softballer. It's a funny old morning, that's for sure.