THE FRIEND 2018
(Short story in the Language of Love anthology)
Dani is pretty sure Christmas lunch at her great-aunt Jean's place is going to suck. Not just because of Jean's longstanding disapproval of every little bit of her, but also, because she's dared bring along a "friend". Okay, make that secret girlfriend. Ro, a national netball star, is sure she can win over the whole clan. But then Ro's never met anyone like Jean. A bittersweet and sometimes amusing look at family, growth, and accepting the things we cannot change.
Note: This Christmas anthology is available for $US2.99 at Ylva until Oct 31, 2018, then becomes exclusive to Kindle Unlimited for three months.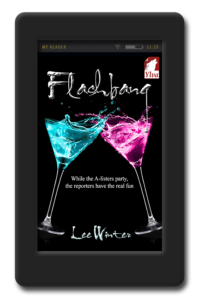 FLASHBANG 2015
(The Red Files  free bonus chapter)
At a celebrity party, all eyes are drawn to the glamorous A-listers. No one's watching two entertainment reporters–knockabout Iowa girl Lauren King and her secret lover, Caustic Queen Catherine Ayers–as they celebrate their last night together in LA in erotic style.  A sexy slice from The Red Files universe.
Get Flashbang  for free at Ylva Publishing.
LOVE IS NOT NOTHING 2017
(Requiem for Immortals  short-story sequel)
(Thriller/Romance) Requiem hadn't meant to care. Hadn't wanted to fall in love. She didn't do love. But life without Alison had seemed so insubstantial. Bleak. Empty. So she went back for her. It's now been two years since Australia's top cellist and secret underworld assassin Natalya "Requiem" Tsvetnenko stood in the rain, faced her biggest terror, and asked her "little mouse", Alison Ryan, to move to Europe with her. What has happened since? Does Requiem still burn to hunt? Has she been tamed by love? Was her prediction right that they could never work out; that they would implode before too long? How could two such different people ever last?
In a single, powerful day in Vienna, all their doubts are faced and the truth seeps into the light.