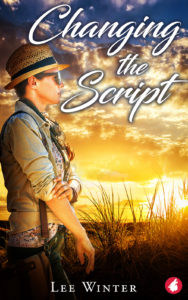 (Lesbian romance) When a tax debt forces LA-based indie filmmaker Alex Levitin to go to a remote part of New Zealand to direct the "worst movie ever", she has a crazy idea: Why not make Shezan: Mistress of the Forest actually good?
Things might go easier if she didn't accidentally sort of run over the standoffish local Kiwi cop on her first day.
When Senior Constable Sam Keegan isn't trying to stamp out a bikie gang drug problem, she's publicly slamming everything about the exploitative film, Shezan, and those making it.
After things start going wrong with the production, the warring pair is forced to work together to find a stealthy saboteur.
And amid the stunning scenery and chaotic film set, they discover they may have more in common than they thought.
Themes and tropes: Cop, Hollywood, enemies-to-lovers, small-town romance, ice queen (2/5 icicles). 
Changing the Script is out now. Links to buy below.

Buy here:

Audible audiobook coming soon. Narrator will be Claire Alain.