From the desk of Lee Winter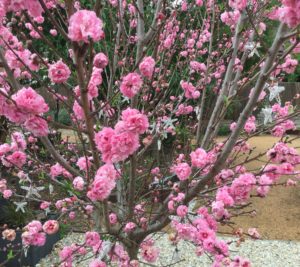 When I'm not writing, I'm in the garden. Spring's a happening thing right now in Australia. Our ornamental peach tree, left, has burst into blossom along with everything else. So expect me hauling and toting a wheelbarrow for a few months to come.
Enough of the garden… let's talk writing.
My seventh book, Changing the Script is out everywhere now! I picked the photo and cover girl myself and Ylva's artist made it a reality. This book is a spin-off to Breaking Character. What's it about?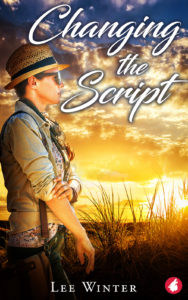 When a tax debt forces LA-based indie filmmaker Alex Levitin to go to a remote part of New Zealand to direct the "worst movie ever", she has a crazy idea: Why not make Shezan: Mistress of the Forest actually good?
Things might go easier if she didn't accidentally sort of run over the standoffish local Kiwi cop on her first day.
When Senior Constable Sam Keegan isn't trying to stamp out a bikie gang drug problem, she's publicly slamming everything about the exploitative film, Shezan, and those making it.
After things start going wrong with the production, the warring pair is forced to work together to find a saboteur.
And amid the stunning scenery and chaotic film set, they discover they may have more in common than they thought.
* Shattered, my book about a strong, sad superhero who's had it with humanity, will be turned into an audiobook early next year, narrated by the amazing Abby Craden. And Changing the Script will also be an audiobook. The narrator has not yet been chosen.
* Want to know where my characters live, work, how I saw them, and all the other trivia that filled my brain when writing my books? Readers can now check out the inspirational and/or research pictures I've posted on my new Pinterest page. So far Changing the Script and Breaking Character are up, but I expect more to follow.
* Right now my publisher, Ylva, is offering something cool for my readers if they live in the northern hemisphere and want a signed paperback copy of my book/s.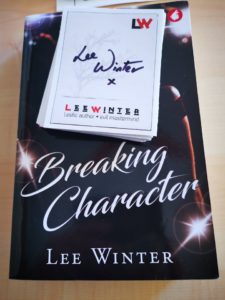 It's not quite a signed book but it's the next best thing – exclusive signed bookplate stickers. If you buy any new paperback copy/s of my book directly from my publisher (just email Astrid at Astrid.Ohletz@ylva-publishing.com), and ask her for the signed sticker/s, they're yours. Here's Ylva's post all about it. The offer's only good until the bookplate stickers run out – and Ylva has just sixty as of August 1, 2019.  If you're in Australia or New Zealand and want to buy a signed paperback directly from me, you can email me at any time: leewinterauthor@gmail.com.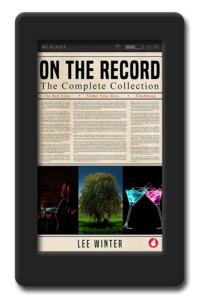 On The Record is out in the Ylva shop. It's all the Ayers and King universe stories – novels The Red Files and Under Your Skin, and the short story Flashbang, in one bargain e-book boxset. Really worth it for the price. The Red Files is my first novel and starts with a newspaper mystery in LA, as Catherine Ayers and Lauren King are forced to work together to get to the bottom of a weird story.
Under Your Skin is the sequel, when they're planning their wedding in Iowa, and a new mystery begins to unfold as figures from Catherine's past emerge and threaten to derail everything. Flashback is a sexy, erotic tale set at the end of The Red Files about Catherine surprising Lauren at Lauren's last LA work function.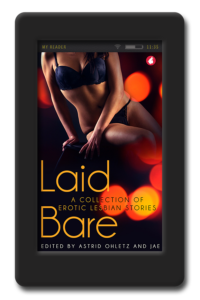 Laid Bare is out now! This is an anthology of erotic short stories that includes my Red Files universe story Flashbang, among some hot, hot tales from Jae, KD Williamson, and Harper Bliss, among others .
And speaking of Flashbang, my story about Catherine Ayers and Lauren King at a steamy LA party also turns up in the On The Record series compendium. Due out on July 17 at Ylva, On The Record also contains The Red Files, and Under Your Skin, for a bargain price ebook. Great if you'd like to have my Caustic Queen tales all in one spot.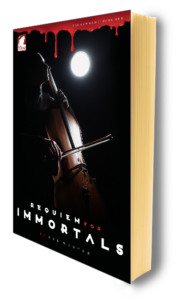 Meanwhile have you checked out the Requiem For Immortals audiobook yet?  Finding the perfect narrator for this book just about killed me, no pun intended. Finally we settled on British narrator Anais Inara Chase who used Requiem's musical choices to inspire how she read the book.
Speaking of audiobooks, I'm still in a state of amazement at Angela Dawe's narration of Breaking Character. It's like she had a cast of dozens in her booth. It's quite possibly the best narration I've ever heard of any book in the history of ever. I could be biased, though!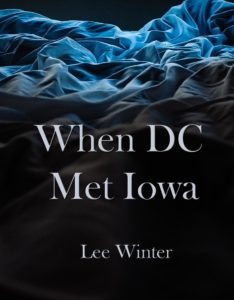 Are you aware I have a newsletter? You can subscribe on the Home page or Contact Me page of this site.
What's my newsletter entail? Every few months I'll say hi and share any new-release info or other writing stuff I have on the boil. No spamming ever, Scout's honor. And I occasionally drop free short stories for my subscribers, most recently one from the Breaking Character universe. Sometimes there are other goodies, such as an exclusive Angela Dawes-narrated short scene between two of my ice queen characters, Elena Bartell (The Brutal Truth) and Elizabeth Thornton (Breaking Character).
New subscribers will get emailed a free new short story set in the Red Files universe, When DC Met Iowa. What's it about? It's the day after Lauren and Catherine's wedding. Mega DC bitch Cynthia Redwell wakes to find she's maybe slept with Suze, the beer-pong-loving Iowan softballer.
It's a funny old morning, that's for sure.