From the desk of Lee Winter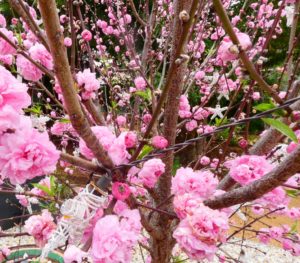 When I'm not writing, I'm in the garden. This month
the ornamental peach tree is in blossom.
It's putting on quite the show until the first gust of wind will denude it.
But, please, enjoy the pictorial evidence until then!
Enough of the garden… let's talk writing.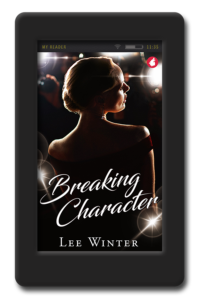 My sixth book, Breaking Character, just came out and is now selling at Ylva, Amazon and lesfic sellers everywhere. Here's the blurb:
Life has become a farcical mess for icy British A-lister Elizabeth Thornton. America's most-hated villain stars in a top-rated TV medical drama that she hates. Now, she's been romantically linked to her perky, new co-star, Summer, due to the young woman's clumsiness. As a closeted actress, that's the last thing Elizabeth needs. If she could just get her dream movie role, life would be so much better. The only problem is that the eccentric French film-maker offering it insists on meeting her "girlfriend", Summer, first.
Summer Hayes is devastated when her co-star shuns her for accidentally sparking rumors they're lovers. Now the so-called British Bitch has the audacity to ask Summer to pretend to be her girlfriend to get her a role? Elizabeth doesn't even like Summer! Oh, how she'd love to tell her no. And Summer definitely would if it wasn't for the fact she's maybe a tiny bit in love with the impossible woman.
A lesbian celebrity romance about gaining love, losing masks, and trying to stick to the script.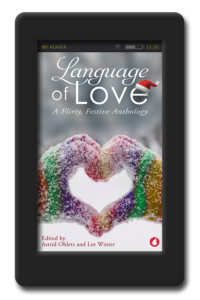 Language of Love is out now! It's exclusive to Amazon for three months from November 1 and is on Kindle Unlimited as well. This is the anthology I co-edited with Astrid Ylva and it contains my short story The Friend. Here's the skinny on it:
Ever wondered what the festive season is like in other parts of the world, especially for women who love women? Crack out the tinsel and rumballs, and wonder no more!
Language of Love shows how universal love is – with a festive theme. Writers share their stories from South Africa, Australia, Germany, USA, Jamaica, India, England, Wales, and Scotland. It'll make you laugh, it'll make you cry, it'll make you hungry.
It's only US$2.99 for more almost one hundred thousand words. Bargain!
Meanwhile there's a Red Files audiobook out now. Just go here. Victoria Mei aka Natalie Naudus is the narrator. She'll also work on the sequel, Under Your Skin soon. Speaking of audiobooks, in case you missed it, there's an audiobook version of The Brutal Truth out now. Check it out here. Narrator Angela Dawe is incredible.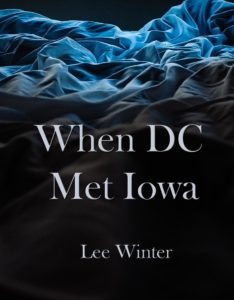 I'm excited to announce I've finally set up a newsletter. You can subscribe on the Home page or Contact Me page of this site, and if you do, you'll get emailed this free new short story set in the Red Files universe.
Wait, a newsletter? What's that entail? Once a month I'll say hi and share any new-release info or other writing stuff I have on the boil. No spamming ever, Scout's honor.
So what's the short story about? It's the day after Lauren and Catherine's wedding. What happens when mega DC bitch Cynthia Redwell wakes to find she's maybe slept with Suze, the beer-pong-loving Iowan softballer?
It's a funny old morning, that's for sure.